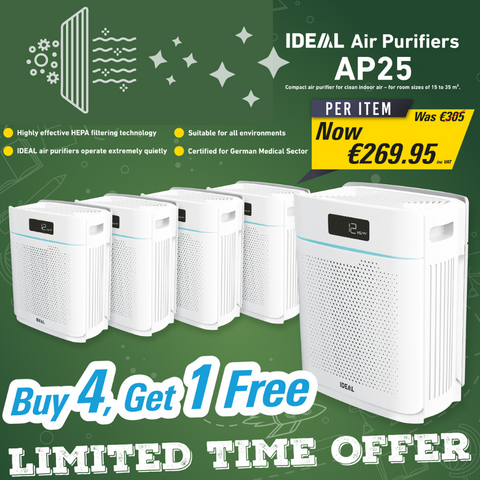 Air Purifier | IDEAL AP25
by Air Clean 360
Save

11

%
€269,95
Includes VAT (23%) of €50,48
The air purifier AP25 combines clear design with efficient air purification. The construction of the device with its two-sided air inlets ensures a high air throughput and a optimum of filtration.
The multi-layer filters filter out pollutants such as dust, particulate matter (PM10, PM2.5 and minor), pollen and allergens, pathogens such as bacteria and mould spores, cigarette smoke, exhaust fumes, chemical vapours (Formaldehyde, Toluol, VOC, ...) and odours from the idoor air. And all this running at very low energy and quiet as a whisper.
The central control panel provides function modes such as automatic mode, turbo and night mode at one's fingertip. The current air quality is automatically monitored and continuously displayed via lighting elements. In addition, the particle concentration of the indoor air is displayed.
Additionally the current PM2.5 values are shown in the display. Practical filter change display. On an average, the filters have to be changed after 12 months, depending on the intensity of the usage.
Call us on 091760446 to order or for a quotation.
or
Email - info@schoolstore.ie