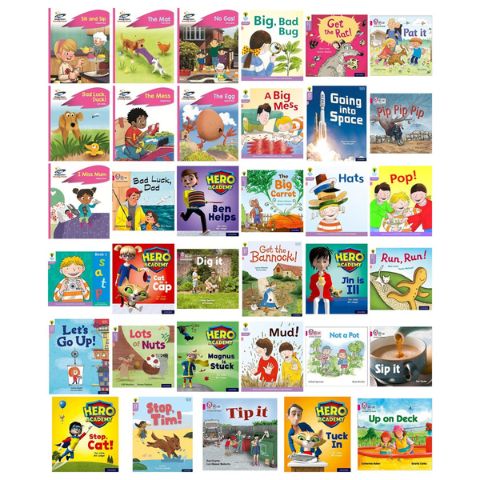 Phonics: Phase 2 Book Pack
by HOPE
€247,00
Includes VAT (23%) of €46,19
Our Mixed Phonics Phase 2 collection features 35 books that are perfect for consolidating children's recollection of the phonemes and graphemes learned across Phase 2 and practising the skill of blending letters (e.g. at, in, on, tap, pet, tip, cat) to read simple sentences independently.
In Phase 2 children will be working daily on learning, practising and playing with at least the recommended five sets of letters as well as blending and segmenting for reading and spelling VC and CVC words. These bright and engaging fiction and non-fiction books are perfect for Reception children to read in class or to take home. From leading publishers Oxford, Collins, Rising Stars and Ransom, the pack includes books from Big Cat Phonics for Letters and Sounds, Reading Planet Rocket Phonics, Ransom Reading Stars Phonics and Oxford Reading Tree's Explore, Decode and Develop and Floppy's Phonics. Books include extra notes for parents on the inside covers.
A range of fiction and non-fiction books
Books chosen from different reading schemes to give children a wider experience of books within each book band
Books chosen have ideas for sharing and how the parent can support reading, including before and after reading
The books are colourful and engaging and lend themselves to book talk from the illustrations and the text
Picture books without words are included for the child's very first reading experiences, where they tell stories and locate information from the illustrations
Order Ref: HC1813995

Call us on 091760446 to order or for a quotation.
or
Email - info@schoolstore.ie