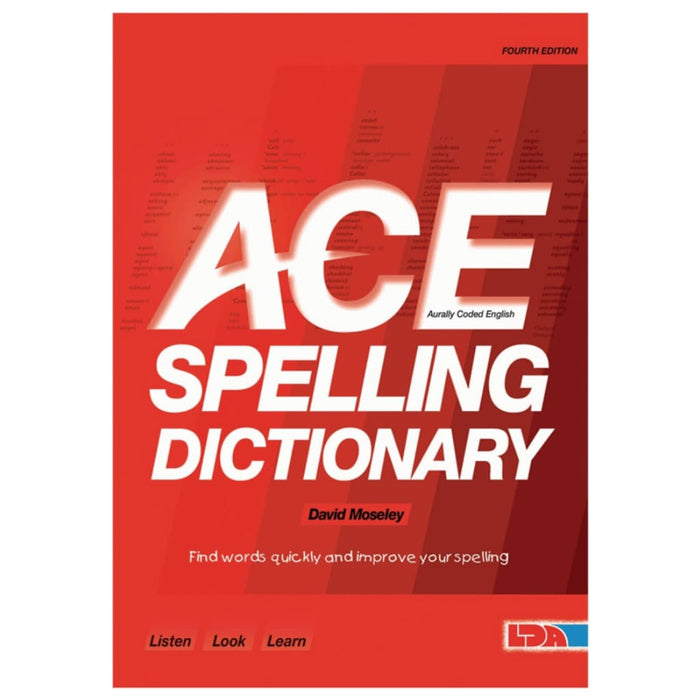 Ace Dictionary
by LDA
€24,99
Includes VAT (23%) of €4,67
SchoolStore.ie supplies one of the best dictionaries on the market, we are happy to present the Ace Dictionary to the pupils, teachers and Schools in Ireland.
Pupils with spelling difficulties often experience problems accessing the curriculum and lose confidence with writing. The ACE Spelling Dictionary breaks through these problems, taking away the frustration of hunting through a conventional dictionary and actually improving users' spellings through increasing their understanding of common spelling patterns and unusual features.
The Dictionary is designed for writers of all ages who need to check spellings and is intended for use in educational settings and at home.
The fourth edition of the ACE Spelling Dictionary has expanded user's notes and thousands of new words, including more alternative spellings, plural forms and 'sound-alike' pairs and groups than before. The darker blue long vowel section makes it easy to open the book near the wanted page. It has an up-to-date vocabulary and provides full 'how to use' guidance for new and experienced users.
Using the unique ACE Spelling Index, users need only think about how a word sounds to find out how to spell it. By simply identifying the first vowel sound, the speller is directed to the page where the problem word is found. The easy-to-use reference system will tempt users to use more interesting words in their writing. Both spelling patterns and irregularities are highlighted in the dictionary so that pupils learn to spell incidentally.
Contains 328 pages. 176 × 250 mm.
Order Ref: ACMT11592
Call 091760446 to order or for quotation.
or
Email - info@schoolstore.ie
Pay by invoice available.