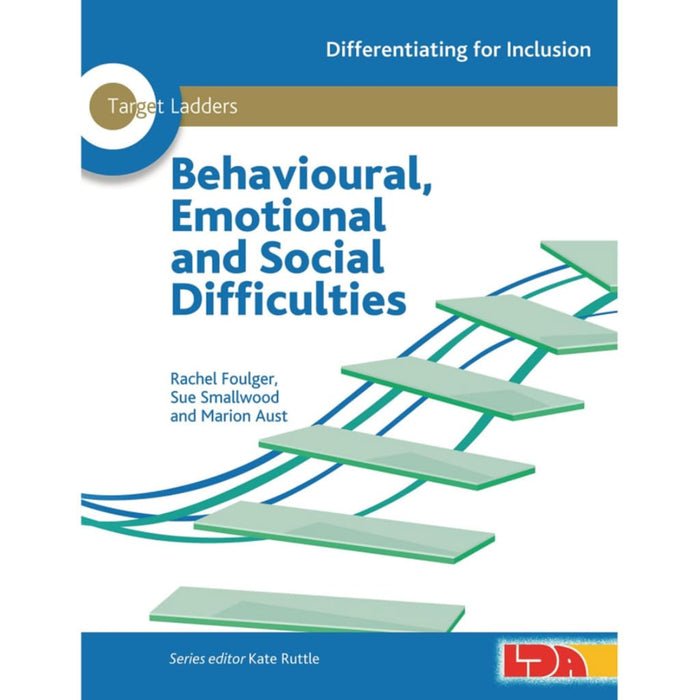 Target Ladders Behavioural, Emotional and Social Difficulties
by LDA
€30,00
Includes VAT (23%) of €5,61
Target Ladders: Behavioural, Emotional and Social Difficulties address six key aspects of BESD:
• coping in the classroom
• unstructured times
• controlling emotions
• taking responsibility
• social interactions with peers
• managing transitions.
Helpful checklists, a section on FAQs and practical advice for creating BESD-friendly classrooms make this an ideal resource for the busy teacher.
Contains 96 pages, highlighting several hundred targets and comes with a CD with photocopiable material, including targets pages and Records of Progress templates.
About the authors
Marion Aust and Sue Smallwood work together in a pupil referral unit in Suffolk, where they are head and teaching deputy head, respectively. Rachel Foulger is based at the PRU and manages the outreach behaviour support service. All three authors were experienced teachers in mainstream schools before working in the PRU.
About the series;
The Differentiating for Inclusion: Target Ladders series is designed to narrow the gap between children with SEN and their peers. Books in this series offer teachers helpful guidance in identifying both what children can already do and what specific targets they need support in achieving. The positive approach of structured small-steps targets, together with activities for teaching these, will ensure that children with SEN make accelerated progress. The books are all written by experienced practitioners.
Series editor Kate Ruttle is a leading practitioner for inclusion and a special needs coordinator. She is the author of numerous books including Target Ladders: Dyslexia in this series.
Order Ref: AAMT12587