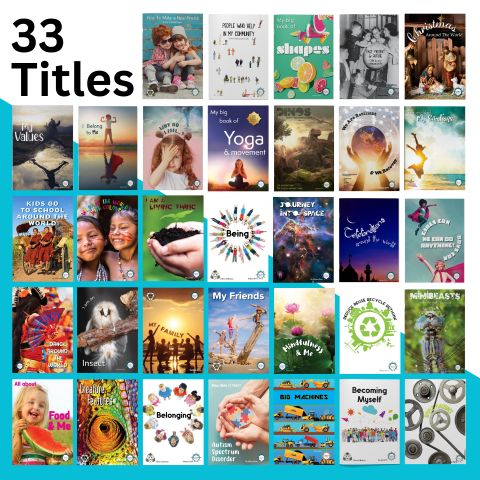 Big Book Multipack | 33 Titles
by Enlighten Press
Save

20

%
€737,88
Includes VAT (23%) of €137,98
Big books

 - giant & glossy, A3 sized for the shared reading experience
All the 33 titles in the Enlighten Press big books. This is an amazing offer which will add hours of fun for shared reading time. These big books are aligned with the Aistear framework and SPHE curriculum. 
Some of the learning outcomes listed below
Emotional vocabulary
Normalise and celebrate the emotional experience
Thinking strategies
Interconnectedness
Self-appreciation & self-awareness
Social-emotional development
Inclusivity 
Empathy 
Emotional wellbeing
Respect
Growth mindset
Critical thinking
Cognitive understanding
Brain-body connection (basic understanding of neural impulses)
Discerning the physical feelings of emotions
Learn to question personal conclusions
Develop a repertoire of self-soothing thoughts
Normalise and celebrate the emotional experience
Free downloadable teachers' notes with curriculum links provide scaffolding and help teachers to design a learning experience
Large format sized big book, 297mm x 420mm - 22 pages.
All big books are A3 sized which makes them ideal for shared reading time. The pictures and illustrations are all captured in high definition and are crystal clear so little eyes can see from all around the classroom. 
The fully laminated pages make these big books long lasting and durable. 
Call us on 091760446 to order or for a quotation.
or
Email - info@schoolstore.ie