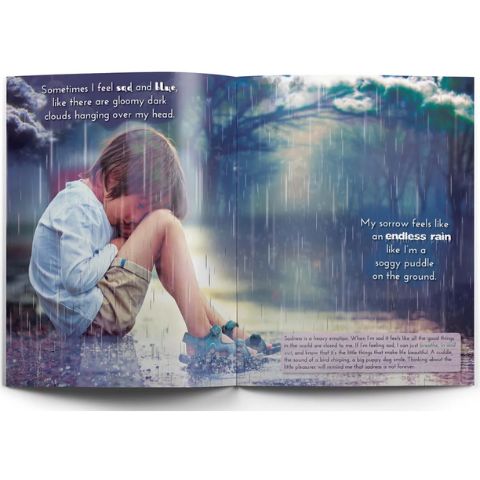 My World Of Emotions Big Book
by Enlighten Press
€27,95
Includes VAT (23%) of €5,23
Our emotions are much like changes in weather, stormy one moment and sunny the next. The weather is used as a metaphorical device to allow children to connect with the intensity of feelings we experience in our emotional journeys. 
This book is helpful for developing emotional skills and learning to recognise, express, understand, accept, and finally, let go of our feelings. 
Emotional regulation is an important foundational skill children take into adulthood. The World of My Emotions examines the variety of emotions children experience.
Information can be expanded upon at the bottom of each page giving teachers the explanations to interpret and discuss emotions with children. Use the information to choose the words suitable for your group or situation. Allow the photographs and keywords to help children articulate and elaborate upon their feelings.
The World of My Emotions can be utilised by chunking the material as the situation arises, or a new page/emotion each day. It can also be read as a whole. When used in conjunction with Enlighten Press' 'Three Bees' series - Mindfulness & Me, My Big Book of Yoga & Movement, Being, Belonging, Becoming, Creature Features, Why Do I Feel and My Mindset My Choice, it becomes a powerful tool for teachers to develop children's emotional skills and resilience.
Learning outcomes
Interconnectedness
Inclusivity 
Respect
Empathy 
Identity 
Expression
Likening emotions to changing weather events
Earth's cycles
Habitats
Physical wellbeing
Positive self-talk 
Social and emotional learning
Self-empowerment
Self-appreciation & self-awareness
Free downloadable teachers' notes with curriculum links provide scaffolding and help teachers to design a learning experience. 
See also our Why do I feel...? Emotions Lapbook series, My World of Emotions Compact Edition for student and home use, and our Why Do I Feel...? Emotions Big Book for shared reading.
Large format A3 sized big book, 297mm x 420mm - 22 pages.
Quality, high thickness paper. Laminated throughout for extra durability.
Call 091760446 to order or for a quotation.
or
Email - info@schoolstore.ie
Pay by invoice available.