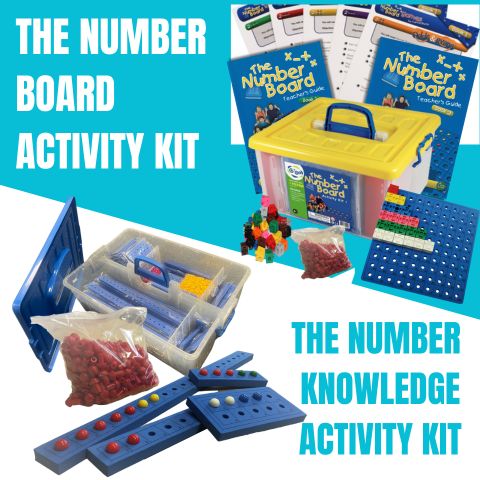 The Number Board & Knowledge Multipack
by SchoolStore.ie
Save

38

%
€250,00
Includes VAT (23%) of €46,75
Major savings on our Number Knowledge and Number Board Activity Kits. 
The Number Knowledge range promotes hands on practical learning experiences for children. Student experience a huge increase in the amount of information that they retain when given the opportunity to practice what they are learning in the form of hands-on training.

In this Kit you get;
30      x       5 Frame
30      x       10 Frame
30      x       1-10 Number Line
30      x       1-20 Number Line
500    x        Number Board Pegs Red + White (Free)
The full kit can do a classroom of  up to 30 children suitable for ages 4+.
The Number Board Activity Kit, developed by SchoolStore.ie, is a simple inexpensive resource used in the teaching of numerous mathematical concepts, at different class levels.
The kit is suitable for first class to sixth class. The teacher's guides that accompany this kit were written by Carmel Burns, a teacher from the west of Ireland. The notes in these guides were written for teachers and explains all the mathematical concepts in a clear and concise manner. 
This Kit includes:
100 frame EVA boards x 30.
2 teacher's guides.
2 game cards.
1250 pegs - 250 pegs x 5 in the colours blue, white, green, red and yellow.
2 boxes of cubes, containing 100 cubes.
Interactive software for computers and interactive whiteboards.
1 Storage box.
Call us on 091760446 to order or for a quotation.
or
Email - schoolstore.ie@gmail.com