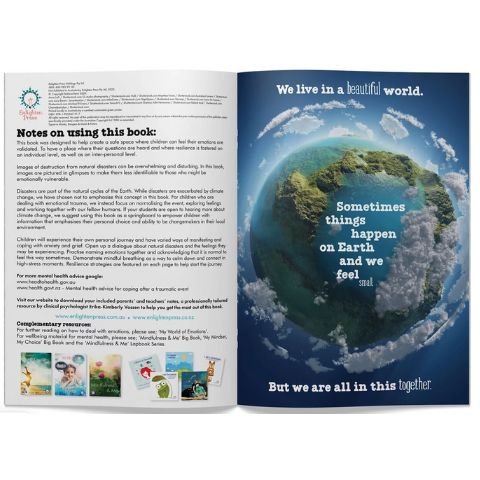 We Are Resilient & We Recover Big Book
by Enlighten Press
€27,95
Includes VAT (23%) of €5,23
Use this book to support children in becoming changemakers during challenging world events and managing anxiety amongst the increasing awareness of climate change.
Coronavirus, fires, and eruptions have highlighted the benefit of developing wellbeing strategies for children. Disasters are a natural part of life on Earth. As scary as they can be, they are an opportunity for humans to come together, to help each other, and to rebuild. With this book, we intend to create mental and emotional wellbeing by exploring the kindness, resilience, and recovery that humans show in dealing with all kinds of disasters.
Includes downloadable parents' and teachers' notes, a professionally tailored resource by clinical psychologist Erika-Kimberly Vossen to help you get the most out of this book.
Emotional management strategies for:
Coronavirus
Fire
Flood
Drought
Earthquakes
Cyclone & Tornado
Tsunami
Eruption
Our Earth is a wonderful and ever-changing planet. Energy is always evolving and moving, which can cause imbalances to occur. This can mean that disasters are part of the Earth's natural cycles and can be challenging for humankind to experience throughout the world. 
We are Resilient and We Recover was designed to help create a safe space where children can feel their emotions validated, have a place where their questions are heard, and encourage resilience, on an individual level as well as an interpersonal level. 
Images of destruction from natural disasters can be overwhelming. In this book, images are pictured in glimpses to make them less identifiable to those who might be emotionally vulnerable. 
Learning outcomes
Interconnectedness
Inclusivity 
Respect
Empathy 
Social-emotional development
Physical wellbeing
Emotional wellbeing
Contribution
Earth's cycles
Large format A3 sized big book, 297mm x 420mm - 22 pages.
Quality, high thickness paper. Laminated throughout for extra durability.
Call 091760446 to order or for a quotation.
or
Email - info@schoolstore.ie
Pay by invoice available